'why are you came?'
happy friday all! this morning on my way to work i witnessed a touching father/son moment. i looked in my rearview mirror and spied what seemed to be dad taking junior to school - they weren't really talking or anything and then all at once dear 'ol dad picked his nose. awesome. then not even 3mins later junior picked his nose. double awesome. family trait? guy thing? gross to pick nose in traffic?
my friend kelly just called to let me know our ticket for the donna's came in and we are f2 row k – so that rocks all kinds of shit! (see seating chart below)i don't know what i just said.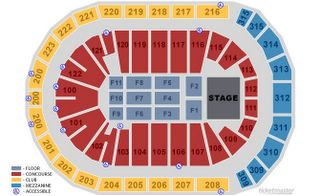 i was super busy this morning at work, and now – not so much, which is nice except i have to get ready for my trip.
kristin is sending me a mixed cd she made – how awesome is that i ask you?
plus i am leaving tomorrow for san diego on business – i hope we have fun. it will interesting if nothing else.